ChordBuddy's Journey: From Shark Tank Success to Music Education Revolution
In the realm of music and innovation, ChordBuddy stands out as a remarkable success story. Featured on the hit TV show Shark Tank, this innovative company is changing the way people learn to play musical instruments, with a special focus on guitars and ukuleles. 
We had the privilege of sitting down with Scott Smith, Chord Buddy's Chief of Staff, to dive into their inspiring journey and mission.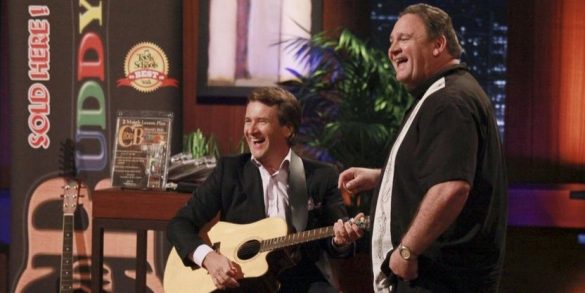 The ChordBuddy Connection
When you work with a company like ChordBuddy, you become part of a unique journey. ChordBuddy was founded by Travis Perry, who invented a tool to teach his daughter how to play the guitar. Scott, a passionate guitarist himself, met Travis at the Social Media Marketing World event and soon became a key player in the ChordBuddy team. This fascinating connection laid the foundation for their journey together.
ChordBuddy's Goal: Making Music Accessible
ChordBuddy's primary goal is to make music accessible to everyone. They believe that music is a universal language, a constant companion through the ups and downs of life. ChordBuddy's mission is to provide people with the opportunity to play real music on real instruments, breaking down the barriers that often hinder aspiring musicians.
Overcoming the Misconceptions
One challenge ChordBuddy faces is overcoming misconceptions. Some view their product as a shortcut, but in reality, it's a learning system designed to ease the initial learning curve. With their guided approach, anyone can learn to play the guitar or ukulele gradually, just like using training wheels on a bicycle.
The Power of Email Marketing
Scott also shared how working with Win at Ecommerce transformed ChordBuddy's marketing efforts. They recognized the potential of their email list and, with the help of the Win at Ecommerce team, leveraged it effectively. By segmenting the list and implementing tailored email sequences, ChordBuddy achieved remarkable results, even when faced with changes in social media advertising policies.
The Ongoing Journey
ChordBuddy's partnership with Win at Ecommerce has been fruitful. They've witnessed not only increased revenue but also a deeper understanding of their audience. As ChordBuddy continues to grow, they are committed to ongoing collaboration and improvement.
Recommendations and Future Growth
When asked about recommending Win at Ecommerce to others, Scott didn't hesitate. He had already recommended them to another agency, emphasizing the importance of finding experts who truly understand your needs. For ChordBuddy, this partnership has been a win-win for all parties involved.
The Path Forward
As ChordBuddy looks to the future, its focus remains on expanding its mission of making music accessible to all. They will continue to iterate, collaborate, and explore new strategies to ensure that more people can experience the joy of playing music.
ChordBuddy's journey, from a father's desire to teach his daughter to play the guitar to a company with a mission to share the gift of music, is truly inspiring. Their collaboration with us has further propelled their vision, and with a commitment to continuous improvement, ChordBuddy's future looks bright. We look forward to seeing how this incredible journey unfolds.